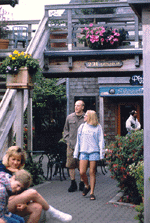 ON COZY, CURL-UP-BY-THE-FIRE DAYS you can do just that - or you can take off for an unplanned adventure. Try any one or all of your friendly neighboring towns. There are several antique hunts here. In Wheeler, you shouldn't miss Laknes' antique gift mall called the Pieffenschneider! Next door is another nest of treasures. On the far side visit Creative Fabrics which tempts you with bright and beautiful fabrics and they show you how to cover lamp shades, make quilts and other amazing things. There's a cluster of shops where you can find handcrafts -- the Crafter Coop and Thrift Shop, then stop at Annie's Kayaks where the rental kayaks are kept. Next to that is Lark's Garden of Fanciful Flowers-posies to take home, plants, garden gifts, and Lark who knows a thing or two about gardens. If you head west on the main street, stop at Tedi's for an assortment of collectibles and a bowl of homemade soup. And meet friendly people. Turn left at the corner and climb up to the little Gregory Street Square with a charming row of small shops and galleries. The Wheeler Gallery is fresh and new and also features wine and beer tasting. On weekends the boss assembles a jazz combo to brighten the early evening. Next door visit Chris Larson, a luthier, which means, he says, "having to do with a stringed instrument".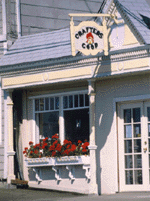 He picks a wicked string around the County. Randall Blaze, our fine native American potter shows his spectacular potteries in the little Blaze gallery. It's all worth a visit. On the way back down check out the new shops of antiques, and Illa's Buttons and Bows for wind socks, wooden chests and garden planters. One last stop, at Wheeler Pharmacy for prescriptions, perfumes, and picture cards. For good measure find the small Chamber of Commerce Information office. The volunteers there can tell you all you need to know about the world around Nehalem Bay. On the return trip to Nehalem Point, turn right at the Mohler junction and drive a mile to the Nehalem Bay Winery. They provide great wine tasting and imaginative entertainment through the summer months, from Jazz Festivals to Great Train Robberies, oubroor pig roasts, and a haunted house at Halloween. You can rent the winery for your own creative party and Ray will put on a barbecue to go along with it, too.
NEHALEM SHOPS carry a multitude of nifty things. Visit Pacific Northwest Naturally to view weather vanes, binoculars, bird feeders, chimes, instruments to tell time, measure wind velocity and keep kids busy. In the next block, you'll spend at least an hour looking through the River Gallery and Beverage Bin. Good places for wine, coffee, gifts and art. The Mystery Treasure House is full of gifts and a collection of books. The Golden Unicorn specializes in fine collectibles, candles, unusual gifts, party snappers and art supplies. You shouldn't miss Sarah Jo's butter cream caramels. Your nose knows the way to her shop. Just sniff. And sample. Across the street, Breezie's Boutique has a great gathering of casual cotton clothes. And check out the funny birds! Don't leave without a visit to the Rustic Barn for books and gifts, followed by Nehalem Video for movie rentals.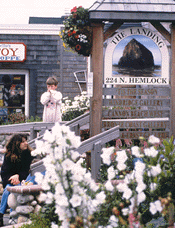 NEHALEM'S GALLERIES AND ANTIQUE SHOPS could consume a whole weekend. If you're looking for a Spade pitcher, a rare whistle, a priceless book or primitive farm furniture you might possibly find it at any one of the many antique marts in our Nehalem Bay neighborhood. Take a look into the many individual shops housed in the Nehalem Antique Mall. Across the street you'll find more rare things at Robin's Reliques and south from there is the home of a good collection of Pete's Antiques. Really fine art, prints and Indian artifacts are found at the Three Village Gallery with emphasis on Pendleton premier blankets and Tiffany style lamps. Up the hill on the way out of town, stop in to view a custom goldsmith's designs of fine jewelry made to order, or setting your sentimental stones in gracious new settings.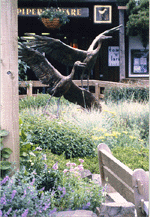 First stop two miles north is the MAIN STREET OF MANZANITA. A block down and on the left is the biggest little mini mall in town-with an imaginative accumulation of goodies. There's a melange of antiques, handicrafts, gift items, skin creams and lotions, tee shirts and anything you could ever want. The stock changes constantly and frequent shopping trips are necessary to keep up with the fun. Across the street is north Tillamook county's popular public library where you'll want to make arrangements for a library card or sign up for volunteer work. Just off Laneda on Fourth street there is a little gallery specializing in pottery and baskets. Back on the main line is "The Book Shelf" and next door is Maxine's Fine Antiques with an exquisite collection. So much to see. On the other business street-a block north-is Osborne's Gallery which shows not only his fine art, but changing shows of local artists. A final spot for art worth remembering: drive south to Bay City (about 14 miles) and see Artspace. It's a charming art gallery, featuring Oregon artists, from the past as well as the present, and the shows are exquisitely put together. They also serve lunch and dinner during the latter part of the week and the food is superb. Fresh oysters you wouldn't believe and more seafood and crisp salads.