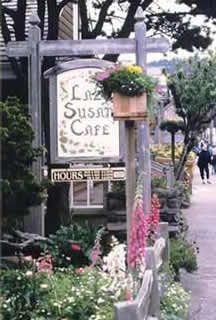 SPEAKING OF FOOD ... if you're exhausted from the happiness of the day at your Nehalem Point home you'll probably not want to cook. Too much fun, cycling or hiking can develop a hearty appetite. There are more outstanding restaurants in the nearby area than you would believe. And such varieties. Starting north in Manzanita, Jarboe's, cuisine as fine as any place in the world. More casual, Manzanita Fireside, good breakfasts. Don't miss Blue Sky's good menu, tiny bar and great talent with food. For take-out the Manzanita Grocery and Deli has fresh food, sandwiches, and caters, too. The Fish Market has shrimp, crab burgers, fresh fish and seafood. Left Coast Siesta is quick and good with fine Mexican food on their friendly deck or to take home for treats. Tucked away in the tiny marketplace next door is another unexpected eatery. Scoveli's Pizza to order out or eat at the counter. Windsurfers hang out at Cassandra's because they know instinctively where to find good pizza and garden fresh salads and wines and beers. Manzanita News features Starbuck's coffee, Temptations, pastries, and lots of good magazines and newspapers. Next, look for the Wave up on Highway 101. It's good old-fashioned food, for breakfast, lunch or dinner.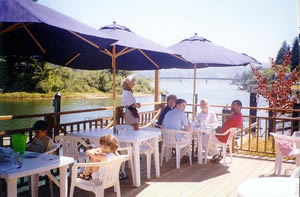 MORE EATING ADVENTURES on the way to Nehalem. At Bayside Gardens you can get praiseworthy prime rib and enjoy the friendly bar. Just beyond, on the right, breakfast is served all day at the Bunkhouse. Some folks eat there so regularly they have their own coffee mugs. Then on to Nehalem where it's imperative to stop at Hill House for friendly breakfasts or sunny lunches in the back garden. Good coffee, good everything. And if you liked that, you'll want to try the Nehalem Dock for dinner, on the bank of the Nehalem River. They specialize in fresh seafood and have a modest bar. If you come by boat you can tie up at the public dock, alongside. In the summertime there's often music. On the way to Wheeler, turn left at the Mohler road and head down State Route 53 a couple of miles until you find Nehalem River Inn (on the left immediately after the bridge), a remodeled old tavern turned into a delightful Inn. If you come by boat you can tie up at the dock in the garden. Or plan a special night out and enjoy delicious entrees, seafood, steak and just right veggies. The desserts are memorable. They serve lunch and dinner from Thursday through Sunday. There are two cozy suites, too, for bed and breakfast.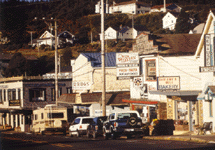 BACK TO WHEELER for more food. More casual, perhaps, but good. The two favorites might be Nina's for a wondrous Italian menu and very special minestrone soup; and the Treasure Café for one of the better breakfast menus in Oregon. On summer weekends only, they do a barbecue of ribs or chicken and everyone eats al fresco in the balmy evenings. It's a treat. Heron Rock also serves on the deck and you can finish your meal watching the sun set in the Bay just beyond Nehalem Point. At Tedi's little soup kitchen they serve sandwiches, salads and hamburgers. And wonderful sandwiches can ordered at Bay front Bakery and Deli or you can eat them there and savor the beauty of the magnificent scenery looking out from Wheeler.