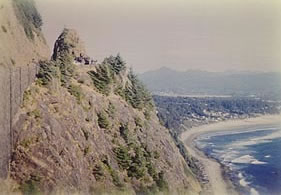 PACK TRAINS,
PIRATES, SHIPWRECKS, BURIED TREASURE
are all part of the past of this beautiful coastal strip of Oregon and myths and legends are woven like a tapestry into the colorful shadings of Neahkahnie Mountain and the old Neahkahnie trail . This treacherous trail led the way for the earliest Indians, pack trains of mail, as early as 1880, and according to the journal of Captain Clark, he and several members of the Lewis and Clark expedition traveled around Neahkahnie mountain and as far south as the south bank of Nehalem Bay near Fisher point.


American settlers arrived around the 1850s, but there is significant evidence of centuries of explorations by the English, Spanish and quite probably very early Norsemen.. The famous treasure rocks found on Neahkahnie in 1890 are tangible clues to one of the most enticing mysteries of the entire Pacific coast. For more than 100 years hopeful treasure seekers have been searching for the

illusive treasure. Evidence comes from these large rocks carved with hieroglyphic markings. Since this amazing discovery up on the meadow of the mountain, determined adventurers have been digging, tunneling and bulldozing the meadows, the beach, the bay, the mountainside, the Nehalem river. Early Clatsop and Killamook Indians had legends of a "winged canoe" which sailed near Neahkahnie mountain and of the men who landed on the beach, carried a heavy chest up a nearby creek and buried it.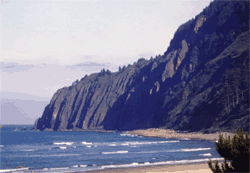 There is another story of a Spanish ship wrecked below the cliffs of Treasure Cove and of the unfortunate sailors who tried to scale the 350 foot rock wall only to fall back into the sea. More recent shipwrecks are recorded in historical files and almost every home in north Tillamook county has a photo of the wreck of the Glenesslin, a sailing ship which crashed at the foot on Neahkahnie mountain in 1913. If you live at Nehalem Point you'll want to spend time collecting your own library of the many famous ships which ran aground on Nehalem spit and along this coast of Oregon.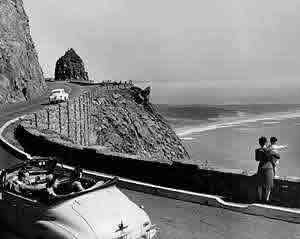 History of the area, and the Oregon Trail:
Oregon Historical Society (OHS)
OHS Historical Books
PBS Oregon History Timeline
PBS Map of Oregon Trail
Travelling the Oregon Trail
PBS Biography on Lewis & Clark
Lewis & Clark Trail History