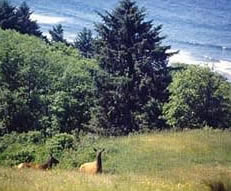 GRAZING ELK AND DEER
are commonplace. They wander in the meadows, along the beach and into your backyard, even swim in the Bay and Ocean. Smaller animals come out at night and gather quietly: beaver, otter, raccoons, fisher, marten, skunk, squirrels, rabbits, small rodents. At higher elevations there are mountain goats, black bear, cougars. And along the adjoining beaches of Bay and Ocean are large mammals--whales, seals and sea lions.

MEADOWS AND SHORELINE
abound with flora and fauna of all types. You'll treasure the moments, and come to wish that the rest of the world was so rich in wildlife.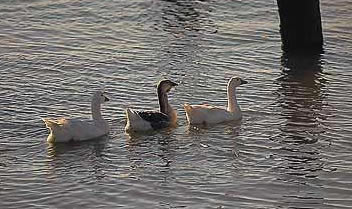 BIRD WATCHERS
who know claim there are more than 100 varieties in or near Nehalem Point. Included are blue and ruffled grouse, band-tailed pigeon, mountain quail, hawks, owls, song birds, gulls and other seabirds. The wetlands are home to waterfowl such as Canadian geese, ducks, herons, and osprey. Now and then a flight of swans is found in Nehalem dairy lands.